How is birth helped by having a doula?
Multiple studies have consistently shown that doula care is associated with shorter labors, less use of epidurals and other pain medications, lower episiotomy rates, and as much as a 50% reduction in the C-section rate. Research has also shown better clinical outcomes for both the mother and the baby (including fewer admissions to neonatal special care units, better breastfeeding rates, and better family bonding). A doula also provides care for the mother's partner and other family members, assists busy hospital staff, saves money, and greatly increases a mother's overall satisfaction with her birthing experience.
 Aren't doulas only for "natural" births
No, certainly not! Doulas are for anyone and everyone who wants support for their birth and postpartum experience. We support all women however, they choose to deliver! We recognize that each client brings a different life view to the table and we provide unbiased and objective support to all situations. At ABQ Doulas, we believe the most important role of the doula is to educate and assist the mother & family in articulating the way in which THEY envision THEIR birth. We support mothers and their choices, plain and simple – how they choose to birth and care for their baby is just that, their choice.
Do you support clients that plan to use an epidural?
 Yes, we most certainly do! Some Moms find an epidural is a useful and important part of their birth. A doula can help you enhance the usefulness of your epidural with position changes, timing, and information. If you choose an epidural we can guide you through what you can expect. We've got "special tricks and tips" for epidural clients and encourage you to choose what is right for your labor.
Can I still use doula if I have planned or unexpected C-section?
 Yes, a woman having a C-section can still use a doula's support. The doula may or may not be in the operating room, depending on the wishes of the family and hospital policy, but either way, the doula is still there for the new mother during the prep time and in the recovery room.
 Are all your doulas trained?
 Yes,  the team at ABQ Doulas is made up of professionally trained and certified doulas. 
Does a doula replace my partner?
Some partners may feel concerned that a doula will displace them or interfere with the intimacy of the birth experience. We would be horrified if we did this! Your partner has a very special role in childbirth, they have an intimate knowledge of you and will be able to tune in and support you in a unique way.  Having doula support helps make sure that the partner's needs are also met (food, drink, rest, encouragement, time for phone calls, and bathroom breaks). Having a doula can enable each partner to participate at their own comfort level and reduce stress. Every family has their own dynamic and we work with yours.  A doula can allow you and your partner to relax more fully and focus on each other, rather than trying to recall everything you learned in class or in books. A doula will also offer suggestions or demonstrate comfort measures for the partner so they can participate with a greater sense of usefulness.
 What happens if you miss my birth or I have a C-section?
 When you choose us as your doulas we will go over all the different contingency plans we have in place for such events. We can still support you through a C- section. And we try to be very flexible when unusual circumstances crop up.
What is a Rebozo?
 You may have read that each of our clients gets a beautiful hand woven Rebozo from Chiapas, Mexico included in their care. But just what is that and why do we give you one? The Rebozo is a beautiful hand woven piece of fabric originated in Mexico and Central America and an intricate part of the birthing tradition. The Rebozo had been used for centuries as an important part of female culture, a source of warmth in the cold, protection from the hot sun, a carrier for baby, a prayer shawl for church. But it has also has an important place for midwives as a tool for labor. At ABQ Doulas you will receive your own rebozo that you can use a late pregnancy comfort, use at your labor, and enjoy after the birth as a special blanket or nursing shawl for you and your child for years to come. We treat our rebozos with the respect and honor due to the culture that originated their use and we use only authentic hand woven Mexican rebozos.
]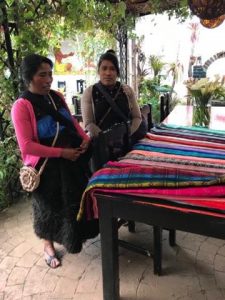 The beautiful mother and daughter weavers who create our rebozos.
What is a TENS unit?
 Your ABQ Doulas will offer you TENS as a labor option.  TENS units are often used in the UK, Australia and Canada as a method for pain relief and comfort during labor. TENS stands for Transcutaneous Electrical Nerve Stimulation and has been used with great satisfaction by mothers for many years. It is a helpful and proven tool for women as a safe option for pain relief that is applied in early labor. Whether you're planning a medicated or unmedicated birth, TENS units specifically designed for use during labor can bring you comfort, delay the use of pain medications, and help with back labor. And the good news is….if you hire us as your Doulas, you will have a TENS unit to use for your birth included in your fee! ABQ Doulas uses OBI TENS units, specially designed for use in labor. We will give you the chance to try one out at your one of your prenatal visits to see if it is an option you'd like to use at your labor. For more information on how TENS works visit this great article: 
 https://www.parents.com/pregnancy/giving-birth/labor-and-delivery/tens-unit-for-pregnancy-labor/
 Will my health insurance pay your fees?
 Sadly at this time, it will most likely not. It would be wonderful if your insurance provider covered our services fees but at this time it is rare. We encourage you to go ahead and file a claim if you wish, but we cannot guarantee payment and we cannot file for you directly. We can, however, take payments from your health savings account cards.