A very special guest post from an ABQ Doula client –
"You will never get pregnant naturally."
That's all I can remember our fertility doctor telling me the day we met in his cold, bare conference room. All I could do was stare at him and try to figure out what he was telling me. After almost 7 years of trying to get pregnant and going through fertility treatments etc. he felt it was time to move on to something even more invasive then we had already experienced. Josh, my husband,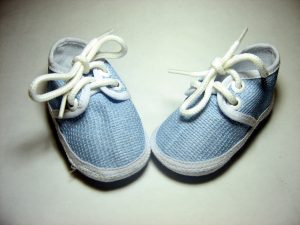 and I refused and decided to end all treatments and appointments for the time being. I remember feeling sad, but not hopeless or in despair. Mathias, whom we had adopted 2 years earlier, was sitting next to me, and looking into his cute little hazel eyes reminded me that God had good things in store for our future, just as he had in our past.
Just a few months later I found out I was pregnant, and had become so, naturally. Sadly, it wasn't this beautiful moment where I told Josh in some cute way and we took a video of us crying out in excitement and joy like you see all over the internet. It looked like me talking 7 different pregnancy tests and still not believing it was true. I called my doctor who said it could probably be a false positive and to test again in 3 days. I told Josh and we just decided that it was probably a false positive. A week later a blood test confirmed I was pregnant. You would think that with that news, we would have been jumping for joy and celebrating. Honestly, I was anxious, conflicted, and even felt guilty. When you struggle with infertility for so many years you get used to things not working out. I'm embarrassed to tell you that I didn't have the faith I needed to believe that God did this huge miracle in our life. I had allowed my identity to be in my infertility for so many years that I had forgotten to find my identity in Christ. I remember reading an infertility blog and the writer said something like, "With a baby or without, you are valuable, you are whole and you matter…" I thought I believed this, but I don't think in my heart I truly did. Something I had to discover was that whether or not God blessed me with a biological child, He was still good. He is not good because I finally was able to get to experience pregnancy, he was good before that and He will always be good long after.
I feel so grateful that I have had the chance to experience pregnancy, it is truly a miracle. As I look back, I'm thankful it took so long for us to get pregnant, if it hadn't, we wouldn't have Mathias and he is not plan B, he is wanted, loved, and chosen. Thank you to all my friends and family who have cried with me, prayed for me, and have now celebrated with me. I am so grateful for you. My heart breaks for my friends and family who are still struggling with fertility, miscarriages, adoption and foster complications etc.
If you are blessed to not be one of the 11% who struggle to conceive after years of trying, don't ignore the person who is because it's easier or more comfortable. Don't dance around the subject because you feel guilty. Check in on those who are struggling, they want to talk about it. April is National Infertility Awareness month, it's no coincidence that this is the month that I am having baby boy Harrelson.
By Katina Harrelson